The Driving Standards Agency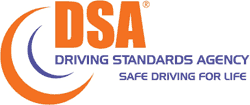 Safe driving for life*
Our mission is to promote road safety by influencing driver and
rider behaviour.
We will do this through setting the standards for
pre-driver education, driver trainers, educating drivers, supervising
trainers and carrying out theory and practical driving/riding tests.
In 2010-11 the following services will contribute to achieving
our mission by sustaining and improving driving and riding
standards.
practical and theory test - delivery of tests, and introducing
an element of independent driving into the practical test
driver Certificate of Professional Competence for lorry drivers
and bus drivers
education - create a culture of continued and lifelong learning
for riders, drivers and those who train them
quality Assurance of all testing activity and monitoring of driver
and rider training
*Safe driving for life is a trademark of the United Kingdom Driving Standards Agency
URL:
http://www.dft.gov.uk/dsa/